What Causes Fading?

Ultraviolet Rays, or UV Rays, are invisible rays that are part of the energy that comes from the sun. It's no secret excessive exposure to direct sunlight is bad for your health. It can cause deterioration of the skin which leads to premature aging as well as dry skin, rashes, not to mention the increased chance of skin cancer, lupus, basal cell carcinoma, wrinkles, melasma, solar lentigines (age spots), squamous cell carcinoma, and cataracts.
Home window tinting blocks 99% – 99.9% of the ultraviolet light that is the chief cause of degradation to the furnishings of your home.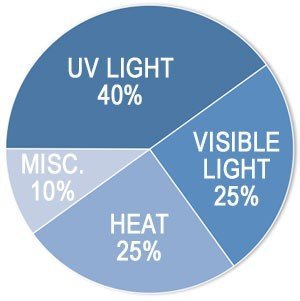 This includes (but is not limited to):
---
Carpets

Hardwood Floors

Furnishings

Blinds
Drapes

Cabinets

Ultraviolet light can also damage televisions, electronics and digital devices by burning out LED crystals.
Ultraviolet rays (UVR) are sneaky. Not only can they cause skin cancer and visible signs of aging, they're also very good at finding you. They can bounce off water, off sand, and they can penetrate glass. Which means that even if you're inside your car or house, if you're sitting next to a window with sunlight streaming in, you're at risk for UV damage.
In hot weather, it cuts down heat within the home, which can reduce air conditioning expenses.
In cold weather, it reflects interior heat back into the house, reducing heating costs.
It helps keep sunshine from fading car upholstery and home furnishings.
Some new types of "safety" film help hold residential and commercial glass in place if shattered. Several times thicker than the standard sun-protective film, it can greatly reduce the chances of break-ins, property damage, and even personal injury that can result from broken glass.
UVA-protective film has moved indoors big-time. Residential and commercial films come in flat sheets, in varied tints, cutting down glare by more than half while allowing 30-80 percent of visible light to get through, depending on the customer's wants. Like automobile film, they block out up to 99.9 percent of UVR. This helps prevent not only sunburn, but also the brief daily UV exposures that cumulatively accelerateskin aging and multiply the risk of skin cancer. In addition, the film can be lifesavers for people with diseases involving dangerous photosensitivity, such as xeroderma pigmentosum and lupus.
Understanding UVA and UVB
---
The center of this confusion is the sun's ultraviolet A (long-wave) and ultraviolet B (shortwave) rays. Our understanding of exactly what kinds of damage each causes to the skin, and how best to protect ourselves, seems to shift every year as new research comes out. For example, it was once thought that only UVB was of concern, but we keep learning more and more about the damage caused by UVA. And new, improved forms of protection against UVA keep emerging. Keeping up with these new developments is a worthwhile challenge that can help all of us prevent sun damage.
What is Ultraviolet Radiation?
---
UV radiation is part of the electromagnetic (light) spectrum that reaches the earth from the sun. It has wavelengths shorter than visible light, making it invisible to the naked eye. These wavelengths are classified as UVA, UVB, or UVC. Both UVA and UVB, however, penetrate the atmosphere and play an important role in conditions such as premature skin aging, eye damage (including cataracts), and skin cancers. They also suppress the immune system, reducing your ability to fight off these and other maladies.
UV Radiation and Skin Cancer
---
By damaging the skin's cellular DNA, excessive UV radiation produces genetic mutations that can lead to skin cancer. Both the U.S. Department of Health and Human Services and the World Health Organization have identified UV as a proven human carcinogen. UV radiation is considered the main cause of nonmelanoma skin cancers (NMSC), including basal cell carcinoma (BCC) and squamous cell carcinoma (SCC). These cancers strike more than a million and more than 250,000 Americans, respectively, each year. Many experts believe that, especially for fair-skinned people, UV radiation also frequently plays a key role in melanoma, the deadliest form of skin cancer, which kills more than 8,000 Americans each year.
Protective Measures
---
Protect yourself from UV radiation, both indoors and out. Always seek the shade outdoors, especially between 10 AM and 4 PM. And since UVA penetrates glass, consider adding flat, tinted UV-protective film to your car's side and rear windows as well as to house and business windows. This film blocks up to 99.9 percent of UV radiation and lets in up to 80 percent of visible light.
Outdoors, dress to limit UV exposure: Special sun-protective clothes with UPF (ultraviolet protection factor) indicate how much UV radiation can penetrate the fabric; the higher the UPF, the better. A shirt with an UPF of 30, for example, means that just 1/30th of the sun's UV radiation can reach the skin. Laundry additives can also be washed right into regular fabrics to provide higher UPFs. However, you can enhance your sun safety simply by learning to evaluate everyday fabrics' sun protection qualities and choosing those with the best protection.
For instance, bright- or dark-colored, lustrous clothes reflect more UV radiation than do pastels and bleached cottons; and tightly woven, loose-fitting clothes provide more of a barrier between your skin and the sun. Finally, broad-brimmed hats and UV-blocking sunglasses help shield the sensitive skin on your head, neck, and around the eyes ? areas that usually sustain a lot of sun damage
Frequently Asked Questions
---